It is important to find safe ways for children to burn-off their energy indoors. The Climbing Triangle enables children to get the playground experience from the safety of their home. Generate open-ended play as kids use their imagination to bring this structure to life!
Our wooden Climbing Triangle is foldable for easy storage in any living space. This piece is ideal for babies, toddlers, and even older children. Adding the climbing triangle to your home enables children of all ages to play together.
Today we are sharing seven ways that we have observed kids playing with the Climbing Triangle. We hope these ideas can inspire your future playtime and lead to more discovery!
Jungle Gym Monkey
Who needs monkey bars when you have the Climbing Triangle? Bring a playground into the comfort of your home so that rainy days will never prevent your kids from playing.
With the ladder addition, the Climbing Triangle can also function as a slide, so now your kids have a complete play structure! Try to imagine another indoor playground that can be folded away at a moment's notice… Oh wait you can't.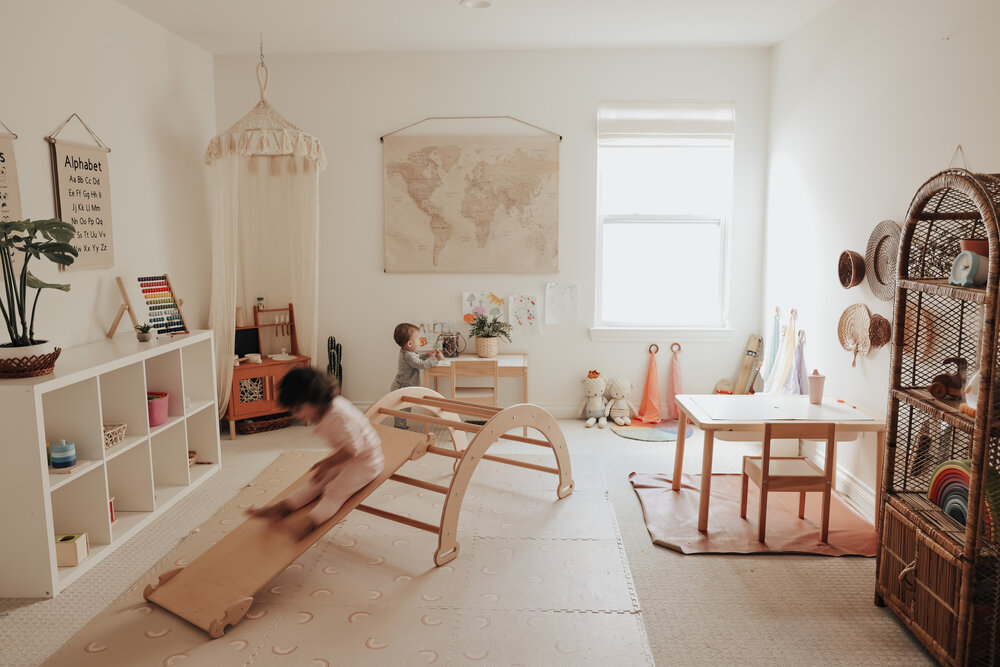 Wilderness Explorer
If your family loves to spend nights in a tent under the stars, then your child will love reinventing this experience in the living room.
To create a campout scene with the Climbing Triangle, first, cover the climbing triangle with dark blankets. Then, put a sleeping bag inside. Consider making s'mores on the stovetop with your child for an easy, early cooking activity. Don't forget to enjoy the s'mores as a family.
Bookworm
Children who love to read, deserve their own unique, creative space where they can reinvent their world.
Let your child decorate their climbing triangle and situate themselves inside with pillows to create a peaceful place where they can get lost in the pages of a good book.
Speed Climber
Is your child full of energy? Try creating an obstacle course for the perfect family weekend activity.
Use household items like cushions, blankets, and pillows to create a basic obstacle course in a big open room. Place the Climbing Triangle at the end of your obstacle course for an exciting finale.
For an additional challenge, try timing family members to see who can travel the obstacle course the fastest!
Race Car Driver
The ladder addition to the Climbing Triangle can also function as a ramp for a high-speed car race. Kids can release toy cars down the ramp and watch them glide across any hard floor surface.
Consider placing a string horizontally on the floor across the room to mark a finish line for the racers!
Busy Builder
Children who are awestruck by big dump trucks and tall skyscrapers will be able to release their construction-worker potential when they get involved with the Climbing Triangle.
The addition of the ladder piece can function as a structural bridge, connecting the Climbing Triangle to other pieces of furniture like a couch or chair.
Puppy Playtime
If your children love playing pretend, then they will certainly enjoy the Climbing Triangle as a home base for many of their creative games.
The Climbing Triangle makes the perfect doghouse for kids pretending to be puppies. It could also be a barn for farm animals or a secret spy base.
The possibilities for the Climbing Triangle are endless! Discover your own way to play by ordering one here on our website.