Motor development is a crucial aspect of a child's overall growth and plays a significant role in their physical, cognitive, and social development. Preschool furniture can greatly contribute to supporting and enhancing motor development in young children. In this blog post, we will explore the importance of sensory tables and active seating in preschool furniture and how they facilitate and promote motor skills development.
Sensory tables are versatile and interactive pieces of furniture that provide children with opportunities to engage in hands-on sensory exploration. These tables are designed to stimulate various senses, such as touch, sight, and sound, through the use of materials like water, sand, rice, or even natural elements like leaves and shells. By engaging in sensory play at these tables, children develop fine motor skills, hand-eye coordination, and spatial awareness.
Through sensory table activities, children learn to manipulate different materials, pour and scoop, sort and categorize, and engage in imaginative play. These activities enhance their fine motor skills as they practice precise finger movements and hand dexterity. Children also develop their hand-eye coordination as they pour, scoop, and transfer materials from one container to another. Additionally, sensory tables encourage spatial awareness and understanding of volume and measurement, as children explore concepts like filling and emptying, and compare the quantities of different materials.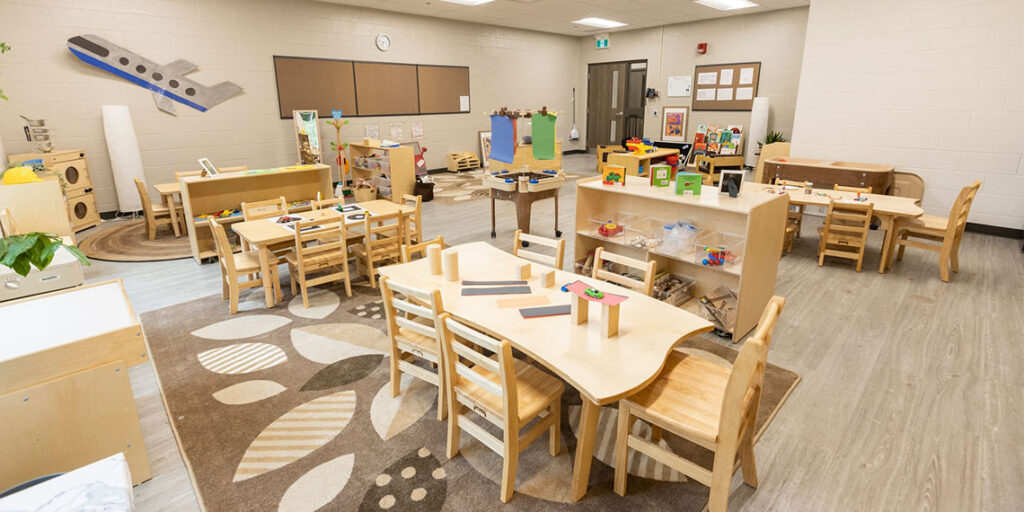 Active seating, on the other hand, refers to furniture designed to promote movement and physical activity while seated. Traditional static chairs are replaced with dynamic seating options, such as wobble stools, balance discs, or inflatable cushions. These seating options encourage children to engage their core muscles, maintain balance, and make subtle adjustments to their posture, thus supporting their gross motor development.
Active seating allows children to engage in continuous movement while seated, which is particularly beneficial for children who may struggle with prolonged sitting or have high energy levels. The subtle movements required to maintain balance on an active seat help children develop core strength, stability, and overall body awareness. By incorporating active seating into the classroom environment, children have the freedom to move, wiggle, and fidget while still remaining focused and engaged in learning activities.
Incorporating sensory tables and active seating into preschool furniture offers numerous benefits for children's motor development. These elements provide opportunities for children to engage in purposeful movement, exploration, and physical activity, which are essential for the development of their gross and fine motor skills. By actively manipulating materials at sensory tables and engaging in dynamic seating, children enhance their coordination, balance, strength, and overall physical abilities.
Moreover, sensory tables and active seating promote a multisensory learning experience, allowing children to engage their senses, develop problem-solving skills, and foster creativity. These interactive elements in preschool furniture not only support motor development but also contribute to cognitive, social, and emotional growth. The freedom to explore, experiment, and move in a safe and stimulating environment encourages children to take risks, express themselves, and develop a positive attitude towards learning.
In conclusion, sensory tables and active seating play a vital role in supporting motor development in preschool-aged children. These elements in preschool furniture provide opportunities for hands-on exploration, fine and gross motor skill development, and multisensory learning experiences. By incorporating sensory tables and active seating into the classroom environment, we create engaging and dynamic spaces that promote children's physical abilities, foster their cognitive growth, and support their overall development.