Dr. Emmi Pikler developed a Montessori Climbing Triangle to assist the cognitive and motor development of children. It is a simple, yet effective tool to help develop the child's motor and cognitive skills. The premise of Pikler's Triangle design is that as a child grows, they must learn how to stand up while climbing and also how to hold on, so that they don't fall off the sides. The doctor's dream was to teach children new ways to access their body freedom through learning and play at an early development stage, thus laying the foundation for their lifelong independence.
The Pikler triangle is probably the most popular indoor and outdoor gross motor toy out there. It offers a safe, stable platform for your child to practice their fine and gross motor skills with ease. Its smooth sides allow children to climb up and down while they develop their movement skills. Therefore, it is a perfect climbing toy to meet the climbing needs of babies and toddlers. We will introduce you to several fun alternatives to keep your little ones active and entertained.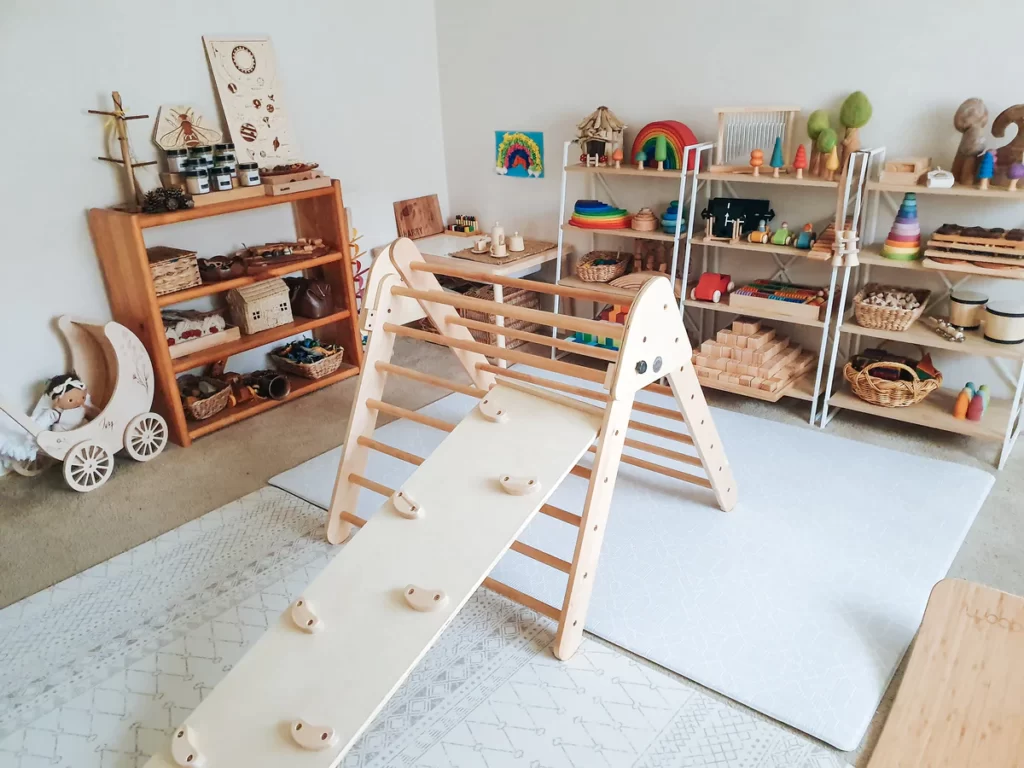 Children of all ages love to play with Montessori Climbing toys. Whether they are simulating the search for food or simply exploring the world around them, you can see growing confidence in their eyes as they learn to use their bodies in different ways while engaging with these climber toys.
This is where Maria Montessori observed the strong connection between learning and moving. In her book, The Discovery of the Child, she wrote:
"One of the most important practical aspects of our method has been to make the training of the muscles enter into the very life of the children so that it is intimately connected with their daily activities. Education in movement is thus fully incorporated into the education of the child's personality."
The number one benefit of having a toddler climber toy is that it will be a safe place for your child to learn and expand their power. Sure, there's a risk that your kid might fall off or cause some sort of injury to themselves or somebody else that's why it is highly recommended to observe the little climber and be there for them if any assistance is needed. With a playful design and classic climbing features of the item which allow children to safely climb, jump and reach for the stars, these toys are created to keep kids engaged while they are working off those excess calories. Instead of wasting time on sedentary pursuits, these toys encourage kids to play and keep them active.
Perfect for babies, toddlers, and beyond. These toys will keep your little ones busy until bedtime!
What are the alternatives to the Pikler Triangle?
Balance toys
Learning balance is a major gross motor skill for toddlers and preschoolers to learn. Balance is a fundamental skill for all children and learning this will help your little ones to master their center of gravity.
There are many different types of balance toys to engage, encourage and support the development of balance, control and coordination for children in the early years. Balance toys provide a fun way for children to improve their body awareness and skills, as well as understanding the importance of balance in their everyday lives. Check some of their examples that will help engage and support the development of balance, control, and coordination.
Stepping stones
What are stepping stones? They are the most common balancing tool for kids of all ages. They allow your child to practice jumping, skipping and running in a fun way! If you are looking for a fun toy that can be used in several ways and encourage little ones to be active, these are the things you should definitely look into.
Stepping stones are a perfect way to play and learn. They are ideal for strengthening the leg muscles and encouraging your child's sense of balance, coordination and gross motor skills. They can also be used as a part of a sensory walk that teaches the right posture. This toy can also be great fun for any adult and it doesn't take much space for storing!
Balance board
The balance board is the ideal indoor climbing toy for children. This skill-building toy helps children develop coordination as well as their feet in order to avoid flatfoot. During the early years, balance is a very important motor skill that gets stronger as children age. 
Imagine being able to climb a rock – or more realistically, ride a bike. The balance board helps to teach your child the importance of healthy habits. It can be used to strengthen their muscles and improve their posture. With its simple shape and design, it's perfect for kids at any age to develop their skills and get some great exercise at the same time. The board is a safe place for them to play in an open environment which will encourage them to explore their surroundings through movement.
Balance beam
The balance beams are a great way to get your child up and moving, encouraging them to be physically active and have a lot of fun. Balancing beams help to develop your child's gross motor skills and core strength, balance and coordination. As they climb and walk up and down the beam, they are exercising their muscles in a whole new way. The movements can help to improve their strength, core stability, and reflexes as well as foster coordination and spatial awareness. There is nothing quite like balance beams. Along with providing physical, mental and emotional benefits, balancing activities help to improve your child's self-esteem.
Explore the world of balance toys to find the perfect harmony between fun and learning. And check some more examples:
Wooden indoor slide,
Nugget play couch,
Balance bike,
Indoor jungle gym,
Playroom workbench,
and much more!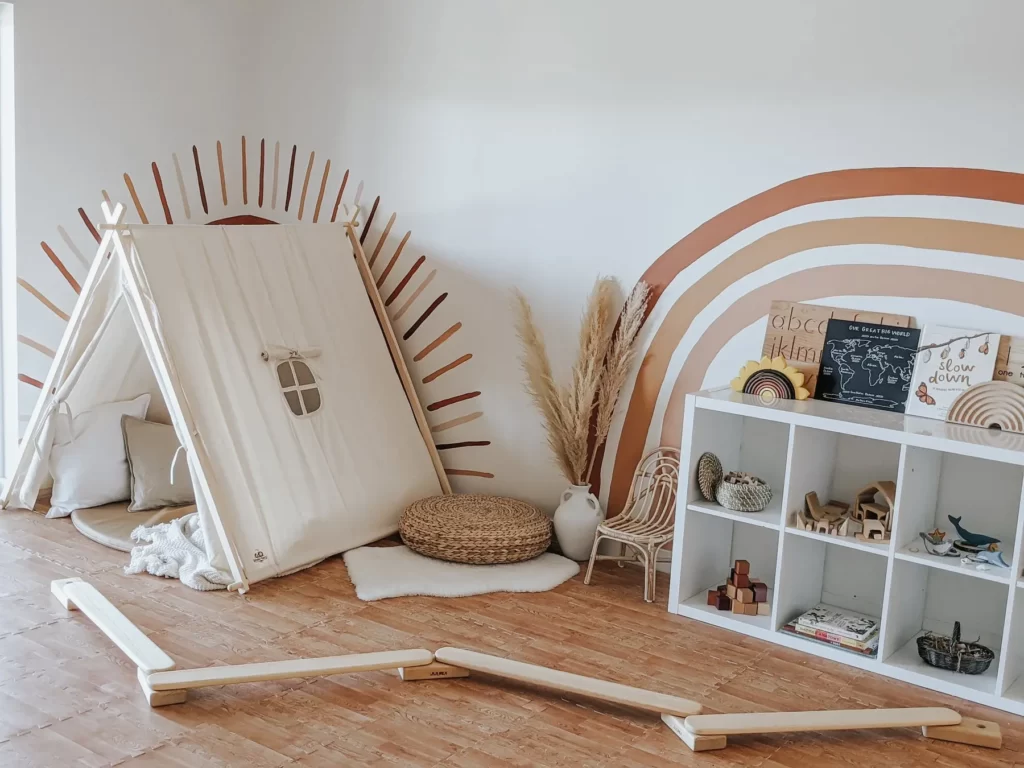 Summarizing all stated above,
All these climbing toys are great alternatives to the Pikler triangle as they help develop gross motor skills, balance, and coordination. They also boost self-confidence and spatial awareness. Climb up, climb on or down with the best climbing toys for toddlers. These exciting structures make just the right fun objects with which to explore, while also providing your child with an opportunity to burn off energy.