For parents all over the world, the value of a safe, stimulating playspace that allows kids to have fun and burn energy — without leaving the house — is clear. If you're looking to level up your own indoor activity options, the Pikler triangle is an endlessly adaptable, open-ended piece of play furniture that offers major benefits for kids of all ages and ability levels.
Best Pikler triangle overall-Wooden Climbing Triangle Ladder with Ramp
This "triangle" is no ordinary triangle — with extra pieces and joints, it can be adjusted into a cube, lower climbing structure for littles, or taller climbing triangle for bigger kids. Featuring smooth edges, screw-free installation, and a strong, sturdy base, it earns points in both the safety and simplicity departments. An included attachment board features a colorful climbing wall on one side, and smooth slide on the other. And despite this climber's larger size, it's still a good fit in most homes because you can stack together its four panels for storage.
Best colorful Pikler triangle-Climbing Foldable Triangle
If you're a parent who chooses toys based on how they'll look in your home, allow us to introduce this climbing furniture. You'll find a huge selection of sizes, options and add-ons. The Climbing Foldable Triangle is made of high-grade wood, then painted with non-toxic acrylic paints (unless you opt to go au naturel). It folds flat for easier storage, and you can add on slides, climbing boards, and other accessories to amp up the toy's challenge as your child grows. You can also buy this triangle in a large size.
Best Pikler triangle Climber with Rockwall
If you're looking for a top-quality heirloom piece that will survive the test of time, you'll appreciate the effort and detail that goes into this toy. Functionality, and aesthetics in mind, the Climber features stainless steel hardware and strong, sustainable. Add on the (optional) rock wall accessory to help your little one find their footing, literally, with a smooth sliding surface on one side, and climbing "rocks" on the other.
Best transformable Pikler triangle-Multifunctional Play Equipment Swing House Set
If you're looking for a Pikler triangle that can morph into a complete play set with added pieces, you'll love this one. Choose from six different ready-baked setups like the one, the Swing House Set, or add on accessories a la carte like the "ninja" rope ladder that's strung on the wooden frame, a bridge, stairs, a ship's wheel and mast, or a swing to create an absolutely epic playspace. The set is safe enough for three children to play at once, so it's ideal for siblings or playdates, especially on rainy days.
Set of 3 Climbing Arch, Climbing Ramp, and Climbing Triangle
If you think the idea of a climbing triangle in your home sounds good, just try taking it outside for a whole new level of sensory learning. Little ones can enjoy the grass on their feet while they stand and pull, while bigger babes might incorporate natural objects into imaginary play. Versatile set brings together three different sturdy structures: a Pikler triangle, climbing arch, and a ramp with climbing holds that promise innumerable challenges to the most energetic of monkeys. Use all three together or separately, and take them outside for outdoor climbing fun.
Climbing Cube
A cube has the advantage of being even more sturdy than a Pikler triangle. With its bottom firmly on the ground, it won't tip or wobble even for the most energetic of climbers. It's also suitable for a child of a younger age: at 6 months, little kids on the move can practice crawling through the wide hole in the cube's base; once they're graduating to pulling up, the rungs on the cube are an excellent way to start. Older kids like using the cube's negative space as an impromptu fort, or climbing on top.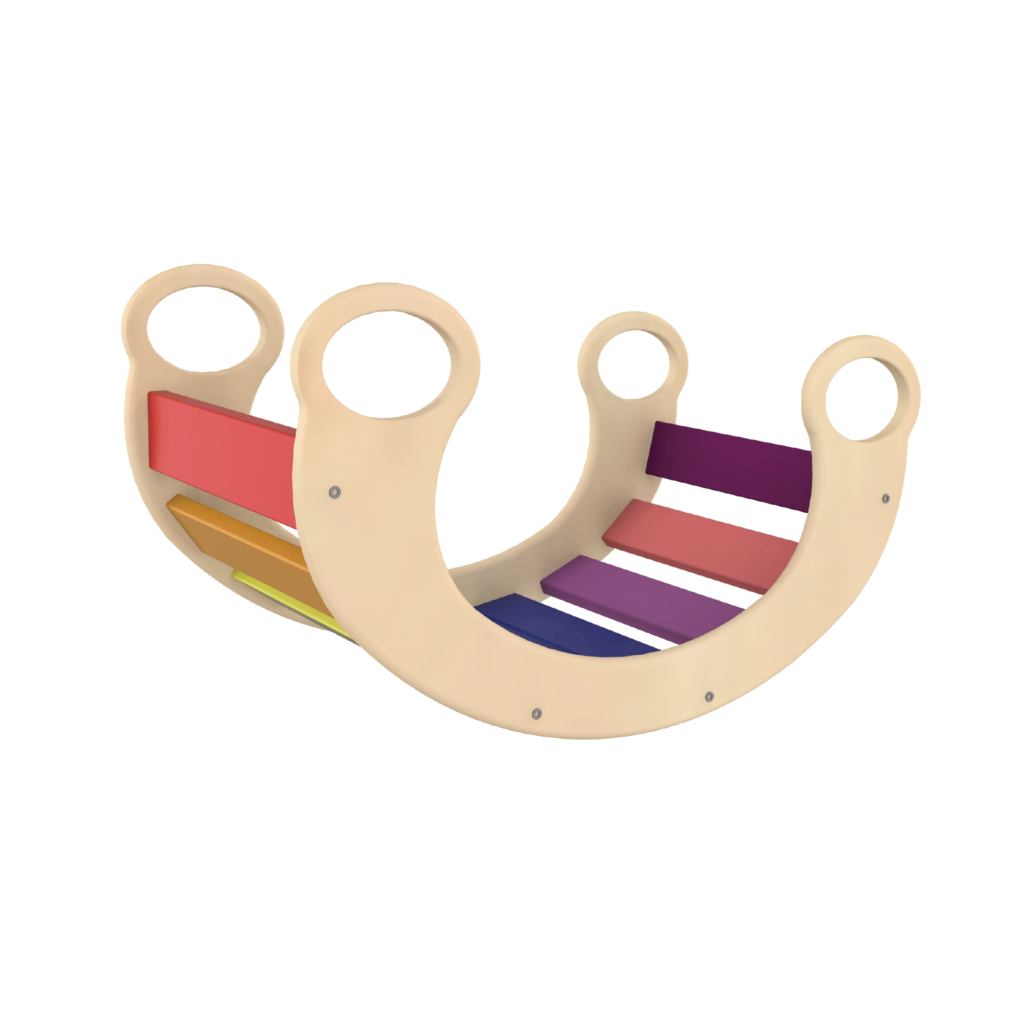 Best climbing arch-Natural Rocking Play
This offshoot of climbing arches is a versatile toy that kids can use upright or upside down, to climb on (or use as a fort, a cave, a mountain, a car…) or to sit inside and rock back and forth. This rocking arch also comes in jumbo sizes for two kids to use at once, and in rainbow hues if you favor a bright-and-beautiful approach. But this basic natural model is sturdy and lovely, looks great in any room, and will provide many years of open-ended play for kids.