If you have heard of Montessori, you have likely heard about the Montessori learning tower. This very neat furniture item is a mainstay in many Montessori homes.
Why should you get one, though? When should you get a learning tower? What is the best brand of learning tower? What about safety?
There are so many questions. In this article, you will get an answer to all these questions and more.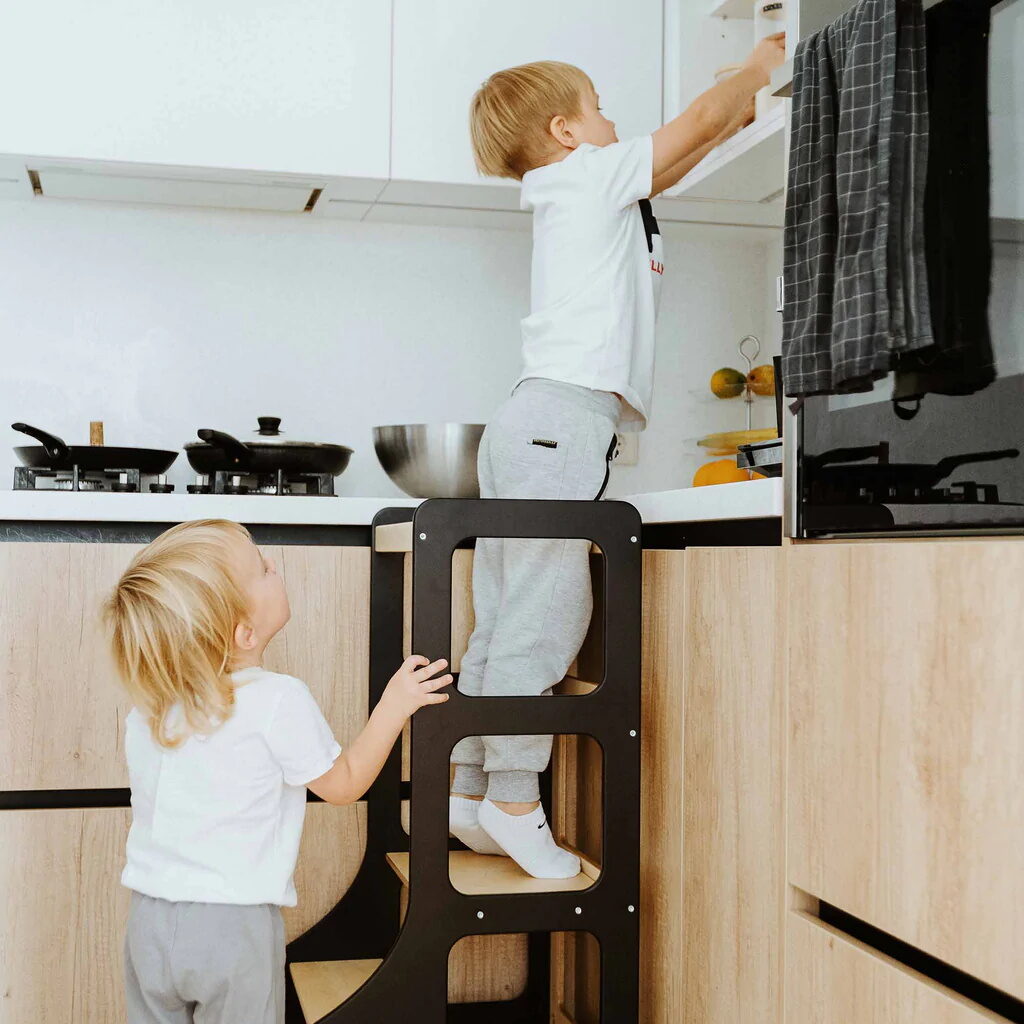 What is a learning tower?
Montessori learning towers are a popular item many families choose to use in their kitchens. A learning tower is a piece of furniture that helps parents more safely and easily involve their children in cooking and other kitchen tasks.
Learning towers go by the following names, for clarity:
toddler tower
kitchen helper
Montessori learning tower
So, if you see people recommend getting any one of these things for kitchen activities, they are all referring to the same thing.
Learning tower vs chair/stool: Why choose a learning tower?
While pulling a chair up to the counter or sink is a perfectly fine learning tower alternative for those who do not want/cannot afford a learning tower, there are a few ways they fall short of learning tower level glory.
Chairs are heavy, they take up a lot of space, and they are easier for young toddlers to fall from. When you are trying to get some meal prep done with your toddler, it is beneficial to have your child on a safe piece of furniture.
Here are the benefits of a Montessori learning tower for toddlers:
helps young children feel included
boosts self-confidence
gives toddlers independence
increased opportunities for bonding
fosters learning
allows toddlers to focus on the activity, instead of their balance
Here are the benefits of a Montessori learning tower for parents:
piece of mind that your child can participate safely
increased opportunities for bonding
physically easier
What features to look for in a Montessori learning tower
All learning towers are not created equal. They vary by levels of sturdiness, features, and price.
When you are choosing a toddler tower for your little one, you need to factor in your child's abilities and age, the amount of space in your kitchen, the level of safety you want, and how much use it will get.
Your child's abilities
The features of your learning tower should be based on the abilities, and/or potential abilities, of your child. Ideally, your learning tower should be able to fit your child's current needs, as well as their needs a couple of years into the future.
Factor in space
Some learning towers are slim and fit well in smaller kitchens, while others are taking up a lot of space and can make for lots of stubbed toes for caregivers. There are also foldable options available. Always pay careful attention to the size specifications when purchasing your kitchen helper.
How much use will it get?
When deciding if a learning tower is right for you, or which learning tower you should invest in, a few factors should be taken into consideration. (Learning towers can are typically used until a child is 4-6 years old, depending on ability and size.)
How long your child will use it
If it will be used over the years for multiple children
Cat Adjustable Learning Tower
After some fun food preparation, this unit converts into a weaning-style table where children can sit and enjoy the fruits of their labor.
Features of this learning tower include:
Durable
Hand-crafted
Converts to a child-size eating table
Folding Kitchen Tower
Features of this learning tower include:
lightweight (easy to move) and compact
accessible for children
durable